Feline in the shower
What do you do when you're hot, single and you want to  cool off a little? You give us a call, and we bring to you the latest shower scene . This hot chick is crazy for some action, and when we suggest to get her in the shower, where we have a full frontal of her hot wet body, she was more then eager. So, we get her to the shower,and when her cloths came off, i gasped, cause right in front of me were the biggest largest boobs i ever saw. And they were so perfect for these pics. Once the water started running, she also became all wet and horny, and when she felt the hot drops rolling down her large tits, tickling her dark nipples, she got even hornier.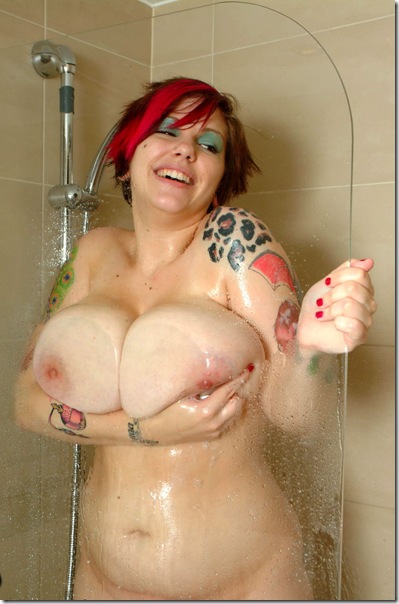 Needless to say it did not take her long to start touching herself all over the place, feeling her tight wet pussy, making herself feel good with her fingers, toying with her clit, enjoying every push she gave herself. Check her out and see how she has a awesome screamed orgasm in the shower. If you liked this natural titted British slut you might also check next door nikki – another busty internet model. Enjoy her superb and sexy little nude shower scene today and do come back next week for more of her superb scenes. Bye bye guys and enjoy it! And if you want to see your cougar in the shower once again, take a look at this video!
Click here and enjoy as Dors showers her big naturals!